Drug discovery on live worms*
helminGuard: Protection against / by parasitic worms (helminths)
Our services
Expertise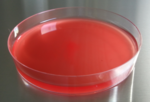 Culture dish helminGuard is specialized in the in vitro culture of schistosomes. Larvae from S. mansoni und S. haematobium mature under host-like conditions into adults including deposition of viable eggs and hatching of miracidia (more).







High throughput screening on live schistosomes

Employing in vitro-cultured schistosomes for screening compound libraries, the team of helminGuard identified several drug candidates with anthelminthic activity.







Advantages of helminGuard's in vitro approach
Replacement of mammalian animal experiments according to the 3Rs concept.
Relevant results, because compounds are tested on live worms in a host-like environment.
Saving of time and costs for drug discovery (more).

*supported by the Federal Ministry for Education and Research Program "Alternative Methods to Animal Experiments",

BMBF

/PTJ 0315277

In vitro-matured schistosome couples surrounded by immature eggs
News / Events
Informative Links:
Global Schistosomiasis Alliance:
Danger is lurking in the water